WALK 'N' ROLL WEDNESDAY GRAND FINALE!
School's almost out, and there's just one more chance to walk, bike, or scoot with your friends this Walk 'n' Roll Wednesday!
Meet us Wednesday, June 6, at 8:00am at US Bank (Sepulveda/Sawtelle) or the Ballona Creek Bridge on Sawtelle. We start walking and rolling at 8:15.
As always, questions, suggestions, or concerns are welcome. Please contact Tom Murray (tom <dot> murray <at> elmarinopta <dot> org).
It's as easy as 1-2-3 to walk 'n' roll more and drive less!
Walk 'n' Roll is a program of the El Marino PTA, in partnership with the Culver City Safe Routes to School (SRTS) initiative, with the goal to get families walking, biking, and scooting to school more and to reduce traffic and pollution around our school. Going strong in its 8th year, Walk 'n' Roll has become a treasured El Marino tradition.
Since El Marino is not a regular neighborhood school, the community lives at a wide range of distances and locations, but our aim is to have a variety of programs and incentives to help families Walk 'n' Roll, whether they live across the street from school or across town.


2017-18 Walk 'n' Roll Schedule
Oct 4 / Nov 1 / Dec 6 / Jan 10 / Feb 7 / Mar 7 / Apr 11 / May 2 / Jun 6
1. Walk 'n' Roll Wednesday (monthly)
Walk 'n' Roll Wednesday is a chance for kids and parents to walk, bike, and scoot together to school, usually on the first Wednesday of the month.
We meet at two locations, the US Bank at Sepulveda & Sawtelle and Sawtelle Bridge over Ballona Creek, starting at 8:00am and leaving at 8:15am for school.
Classes compete for the Silver Sneaker Trophy for highest participation, and everyone who attends is entered in a monthly raffle for prizes, including a Razor scooter!
Walking to school does so much for our community, including reducing traffic, congestion and pollution while teaching our children healthy, active living, valuable safety practices and community awareness.
Parents are encouraged to join in the fun, but are welcome to drop off their children at both spots (as at school, a parent should accompany Kinder and pre-K students). Please be aware, however, that, as in all activities, there is some risk involved. By dropping off your children to walk with the group, you acknowledge and assume such risk.
We always have big groups and a whole lot of fun, so come join us!
Note: US Bank has been kind enough to host Walk 'n' Roll Wednesday for years now. Please help by avoiding parking places reserved by cones and by making sure your car is out of the parking lot by 9am, unless you have business at the bank. Thank you!
2017-18 Walking School Bus Routes
Let us know if you'd like to start a route in your neighborhood with
nearby families.
2. Walking School Bus (Thursdays)
Starts Thursday, Oct 12.
A Walking School Bus route is a safe and fun way for kids and parents to walk to school together. Each "bus" walks along a set route with one or more adults leading it, picking kids up at designated stops along a predetermined route.*
El Marino has 4 weekly Walking School Bus routes around nearby neighborhoods, with plenty of convenient places to park and join in if you don't live in the area.
Join the Google Group elmarino-dolphin-pods for the latest info.
*As with Walk 'n' Roll Wednesday, younger children in TK and Kinder should by accompanied by a responsible adult, but we encourage adults to join in the fun regardless of their child's age!
Walking School Bus Stops
See flyer or internal Facebook for schedule.
North Route
1. Kalein
2. Orville/Janisann
3. Sawtelle/Hayter
4. El Marino

(parking options: Sawtelle)
East Route (2 branches)
1a. Kelmore (start branch #1)
2a. Stever/Kinston
1b. Overland/Sawtelle (start branch #2)
3. Malat/Sawtelle (branches meet)
4. Hannum/Vera (meet South Route)
5. Berryman/Culver Park
6. El Marino

(parking options: Stever/Kinston; Sepulveda/Berryman /7-11; Berryman)
South Route
1. Playa Pacific Townhomes
2. Hannum/Playa
3. Hannum/Vera (meet East Route)

(parking options: BevMo; Starbucks)
3. Take the 3 Block Challenge (Any day!)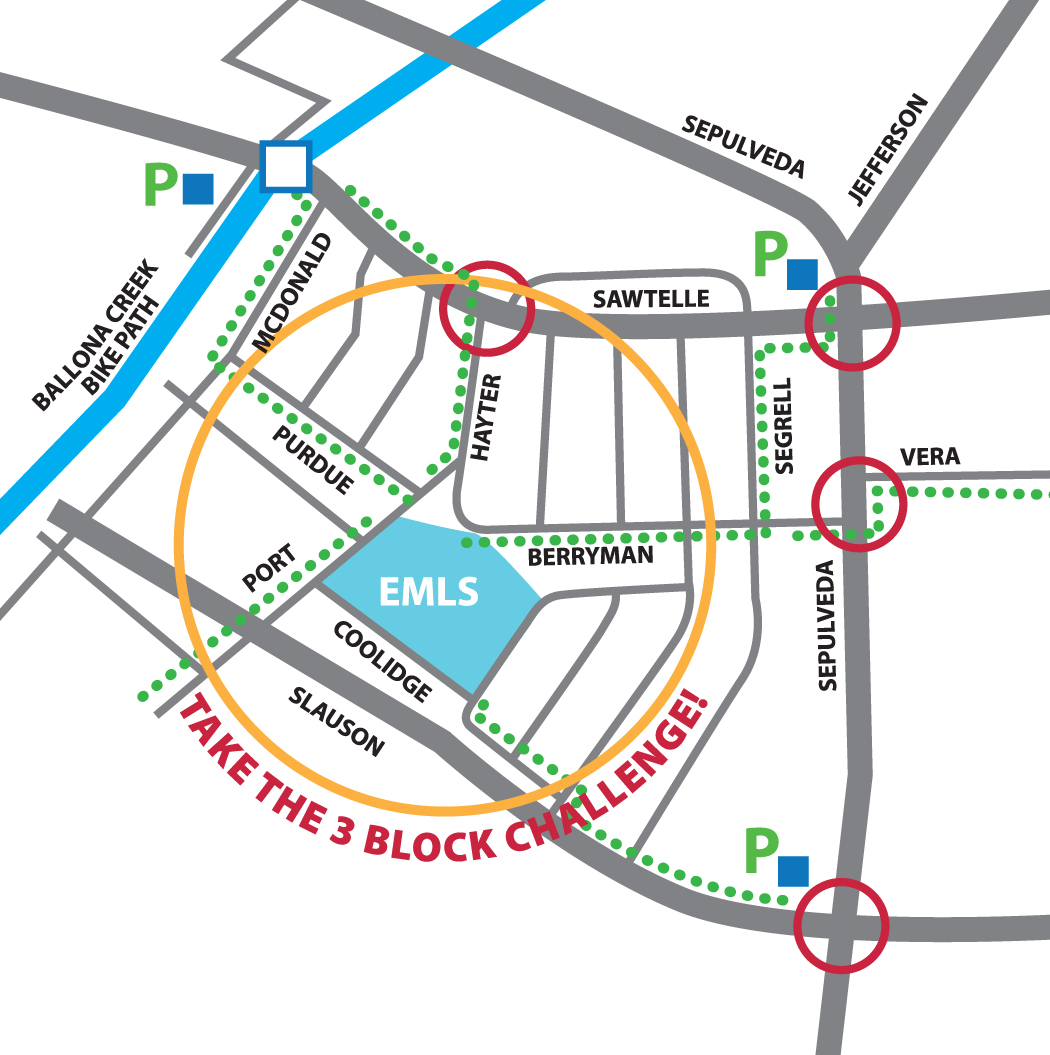 Even if you usually drive to school, it's easy to help reduce pollution and traffic around the school, while giving your child and yourself a calmer and healthier start to the day.
Just leave home 5 or 10 minutes earlier, park a few blocks from school, and walk in together. You'll be amazed at what a difference it makes!
The map shows a number of options for parking locations and safe routes around El Marino.
About Walk 'n' Roll Tags
As part of the Culver City SRTS program, El Marino Walk 'n' Rollers use the Active4.me system to track participation. Using this system, each student has a small tag with a bar code that Walk 'n' Roll parent volunteers can scan, which registers the student's participation for overall and class-by-class tallies and enters the student in our raffle drawing incentives.
It is important to note that the tags are anonymous, meaning that your child's identity is not stored in the system and cannot be determined from the number on the tag. We only register the tag with your child's class, so that we can compute class-by-class tallies and award the Silver Sneaker Trophy to the class with the highest participation each month.
Questions or concerns? Please contact Tom Murray (tom <dot> murray <at> elmarinopta <dot> org).